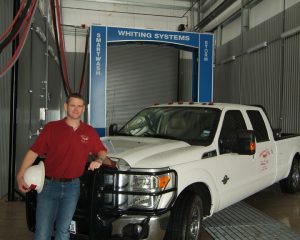 American Sales has been in the equipment & chemical business since 1978 and is a proven leader in our industry – with over 150 years of combined experience. We operate out of 12 offices in four states. American Sales also has partnerships in key locations throughout the United States.
Our experienced team members can assist you with choosing the right system. The equipment can also be rented or leased on a per wash basis – with service contracts available. American Sales currently maintains a combined fleet of over 100 vehicles, trailers & rental units to better service our customer base.
Along with our cleaning equipment, we also sell and service interior trailer wash systems, commercial vacuums, forced air vehicle dryers, vacu-boom water capture systems, oil and gas well batch treating units, waste water treatment systems, automatic parts washers, RO systems, pressure washer accessories, automated undercarriage wash systems, diesel-fired industrial space heaters, floor scrubbers & water softeners.
Our agriculture division builds and repairs water transfer trailers, fire fighting equipment, herbicide & pesticide spraying equipment, & poly water and chemical tanks.
American Sales also custom blends industrial bulk cleaning chemicals for many industries.